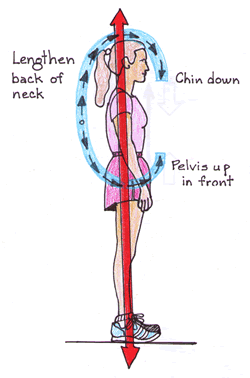 Want to improve your posture, walk and run effortlessly, rid yourself of chronic aches and pains, and stop world hunger? Well, besides that last one, Chi Running is supposed to help you do all of that. Danny Dreyer, author of Chi Running: A Revolutionary Approach to Effortless, Injury-Free Running, has set out to teach the world how to run and walk pain-free.
Chi Running Basic Tips:
Video not showing up? Watch the Chi Running video here
Effortless Running Posture (similar to what they teach you in ballet):
Lengthen Back Of Neck and Chin Down
Tuck Bottom, Pelvis Facing Front
Shoulders Rolled Back and Down
Relax: Head, Shoulders, Hips and Ankles Aligned
SoCalRunning instructor demonstrates how to have good form:
Video not showing up? Watch the Chi Running Posture video here
Learn more about Chi Running posture here and here.
How To Prevent Injury To Knees and Hips (Avoiding Heel Strike):
Video not showing up? Watch the Injury Prevention video here
Danny Tip: "Don't land on your forefoot. That will DEFINITELY create more stress on your calves and ankles. You want to land mid-foot, which is completely neutral and doesn't require your calf muscles to fire. Try to remember to land fullfoot and keep all muscles below the knee relaxed the entire time you run."
Proper Pronating When Running:
Video not showing up? Watch the Proper Pronating video here
See Danny Dreyer's YouTube channel for more clips.
My husband noticed a significant difference in my form and speed after implementing the Chi Running techniques. One question remains: why don't thy teach this as Running 101 to kids in grade school and above? It is so helpful!
Have you read Danny Dreyer's Book or put his methodology into your running or walking practice? Has it helped?
…
Photo by Chi Running
Find Healthy Republic on Twitter and Facebook Fan Page