Though it's quite mid-summer, I thought I'd start start a little Media Club for those breezy hot days under a tree cuddled up with a nice read, as well as for those lovely nights watching an informative and inspiring documentary.
SUMMER 2010 READING & VIEWING LIST:
The first and second Tuesday of every month, I will be reviewing media—typically a book (1st Tues) and a documentary (2nd Tues)—related to sustainability, health, environment, fitness, etc. See 3-month schedule below.
JUNE (media review date: July 13th—these were my media for June. I'll be a bit late this July in reviewing them)
BOOK: The Backyard Homestead

"Produce all the food you need in just a quarter of an acre!" —Carleen Madigan, editor of The Backyard Homestead

Watch a clip here (8 min) on a few highlights in the book from making homemade butter and bread to raising your own chickens and sprouting.

DOCUMENTARY: Big Ideas For A Small Planet (Season 3) | Available on Netflix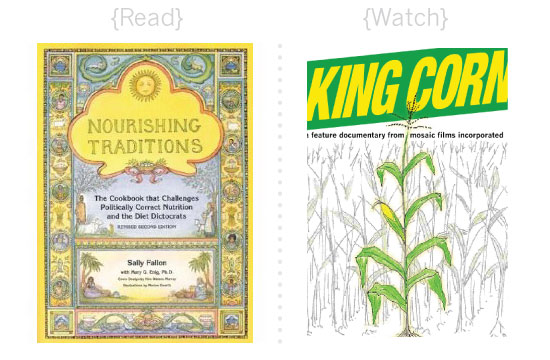 JULY (book review date: August 3rd and 10th)
BOOK: Nutritional Traditions*
"Recalling the culinary customs of our ancestors, and looking ahead to a future of robust good health for young and old, Nourishing Traditions offers modern families a fascinating guide to wise food choices and proper preparation techniques. Sally Fallon unites the wisdom of the ancients with the latest independent and accurate scientific research in over 700 delicious recipes that will please both exacting gourmets and busy parents." —Sally Fallon, author of Nourishing Traditions

Check out the Weston A. Price Foundation and their Real Milk Campaign. Watch a clip on Dr. Mercola's take on Raw Milk (hilarious that he points at the camera at the end).

*As I am lactose intolerant, I'll be doing an experiment to see how I do with raw milk and dairy. Currently, I primarily follow a plant-based diet with little to no dairy products.
Suggestions for the Fall Media Club? Email Me!
See the Little Shop for reviews on the books above as well as other Wish-Listed books.
…
Photos By The Backyard Homestead, Big Ideas For A Small Planet (Season 3), Nutritional Traditions, King Corn, Slow Death By Rubber Duck, Frontline: Poisoned Waters
Find Healthy Republic on Twitter and Facebook Fan Page